A Game-Changer Kitchen Garden
"I believe this Kitchen Garden project can really be a game-changer to these noble women of Nyandoche Ibere." ~ Emmah Gesare
Emmah is always thinking of ways to support her village. She has come up with a beautiful idea where people who have a high stake in the community are fully involved in making it better. This idea may seem small in nature, but we could define it as a game-changer in the village.
The idea is a simple one – sometimes those are the best. Emmah has started a project that is called the Emmah's Garden Women Group. The project involves identifying key women in the village of Nyandoche Ibere. The main objective of this project is to support women who will set up and manage (That means to grow food!) a Kitchen Garden. A kitchen garden is a small garden typically adjacent to the home of the woman. 
These small but highly efficient gardens can support a family. This effort goes a long way to helping a family to have a higher level of food security. The women who receive funds to get a kitchen garden started are also motivated to improve garden performance. Improved performance may translate into surplus food. Surplus food can be sold in the village to increase income for the family.
A successful kitchen garden may seem like a small thing. Still, to a family in this village, it is very significant. 
This effort can be expanded as more funds are raised to include more and more women. To start a garden, a woman will receive seeds and other farm-related items needed to plant and manage the garden. These women will also receive educational support as well as coaching and guidance from Emmah. The gardens will be composed of various vegetables improving the base level of nutrition for families in the village. 
Emmah is the coordinator of this project and the agricultural advisor. She is enjoying teaching these competent women the most up-to-date farming techniques to improve garden yield. Everyone involved is enjoying the project. 
Emmah is also working to find opportunities to sell any surplus crops that are produced. Later Emmah will also teach them how to manage the money they get from the vegetables; this will help them improve their financial management skills. 
Any extra income from a kitchen garden will be directed towards improving their lives by helping with their children's education, paying medical bills, and, in general, improving their standard of living.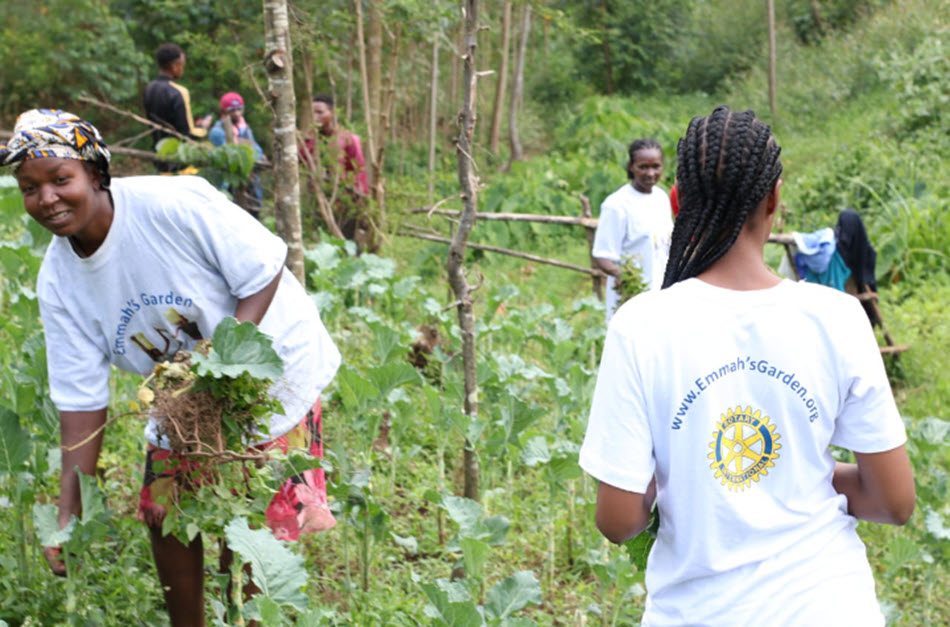 Thank you very much from the community Nyandoche Ibere to the Rotary Club of Lebanon, New Hampshire for the water purification support to Emmah's Garden.